by Ryan Fay
Former Union forward Kyle Bodie signed with the ECHL's Reading Royals, the team announced Friday.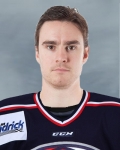 Bodie
Bodie was signed to an ECHL Standard Players Contract for the 2014-15 season. Financial terms were not disclosed.
The Royals acquired the ECHL rights to Bodie as completion of the future considerations element of the October 2013 trade that sent Bobby Shea to the Toledo Walleye.
Bodie spent last season with four ECHL teams. He started the year with the Cincinnati Cyclones, but was traded to the San Francisco Bulls on Nov. 13. A month later, the 26-year-old was dealt to the South Carolina Stingrays, where he was reunited with former Union teammate Wayne Simpson. After being released in mid-March, Bodie was claimed by the Walleye. Between the four stops, he recorded six goals and 10 assists in 57 games.
The East St. Paul, Manitoba native scored 28 goals and 57 assists in 122 games with Union from 2009-2013.
Follow @UnionHockeyBlog